 7 pups available

updated 08/9/13

Will update pics each week!

Litters 

Pocketbook Pups

AKC Yorkshire Terriers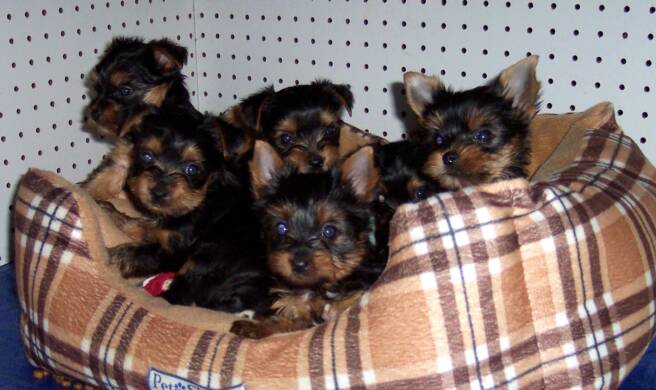 Copyright 2010 Pocketbook Pups:  Yorkshire Terrier Puppies for Sale.  All Rights Reserved.

Find a Top Notch Yorkie Breeder
Click on Blue Star to see puppies and future litters.

Hi, I'm Kerrie Engelmann, 

owner of Pocketbook Pups.

We breed and sell AKC Yorkshire Terrier Puppies which include teacup yorkies and standard yorkshire puppies. They are all different and special. 

Wait 'till you get one. 

You're going to love them!

Call 512-5-657-0072

and ask for Kerrie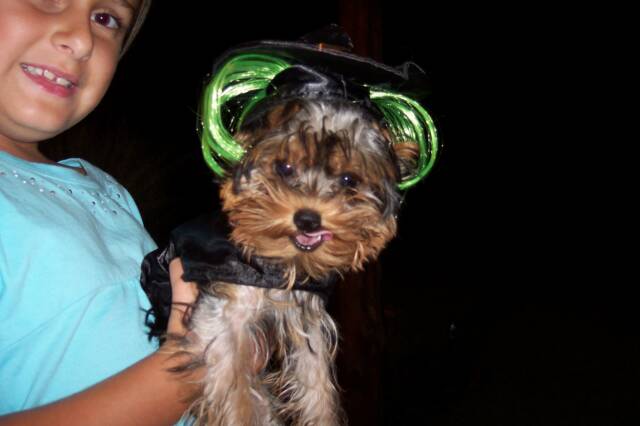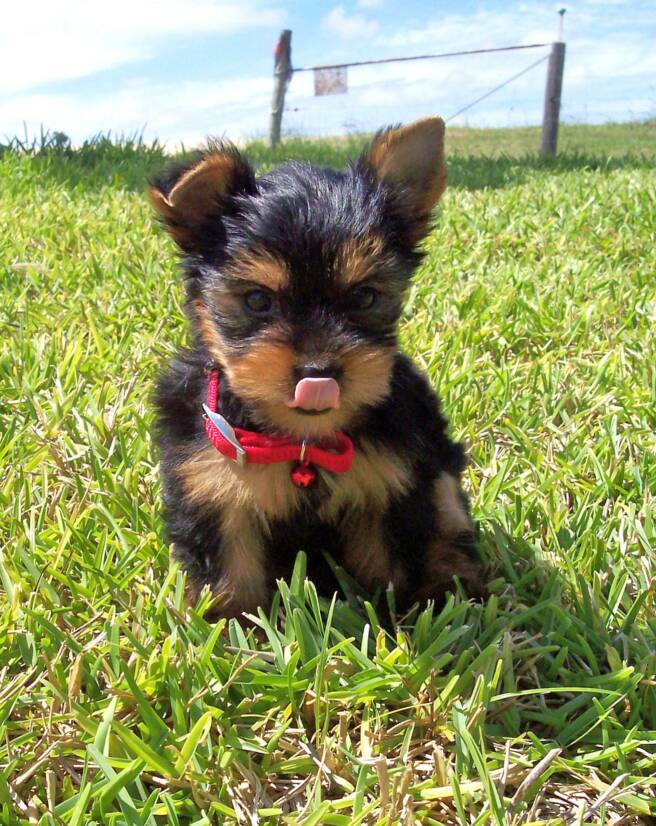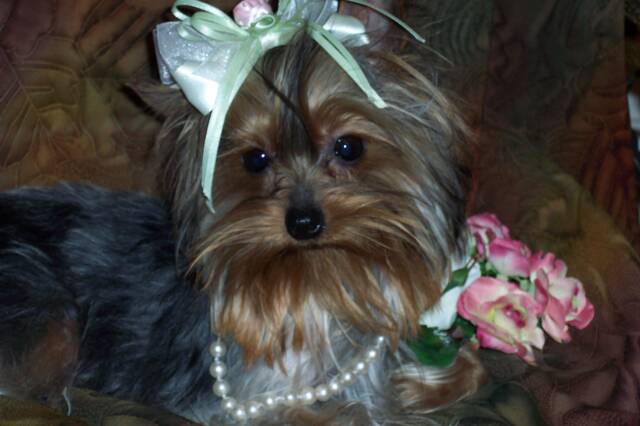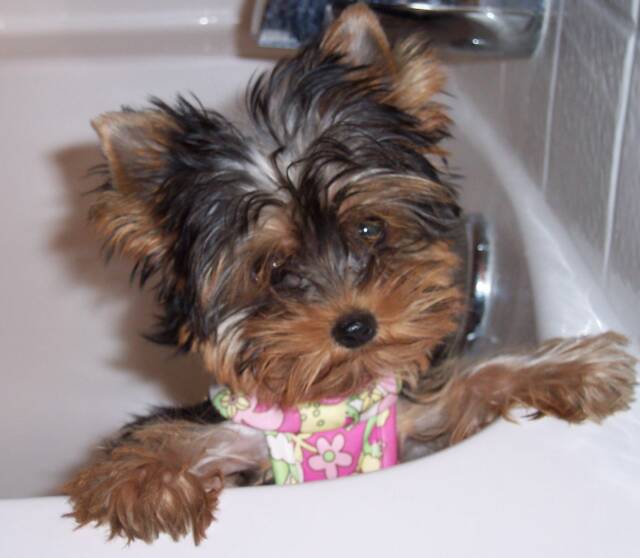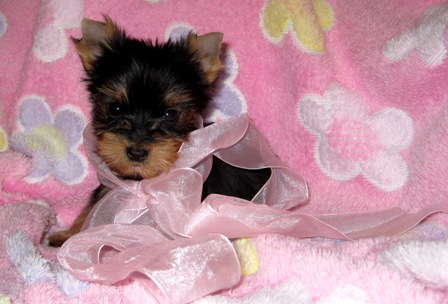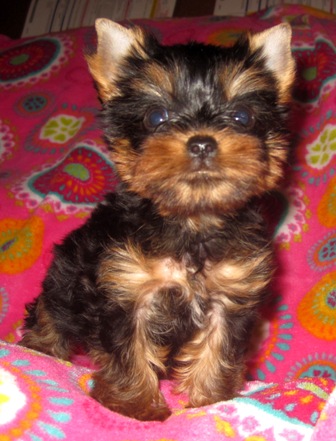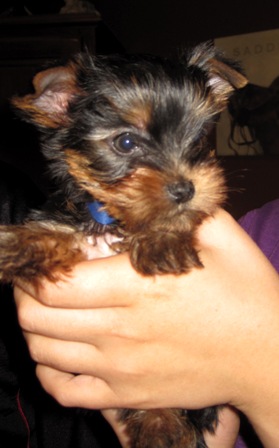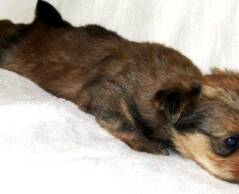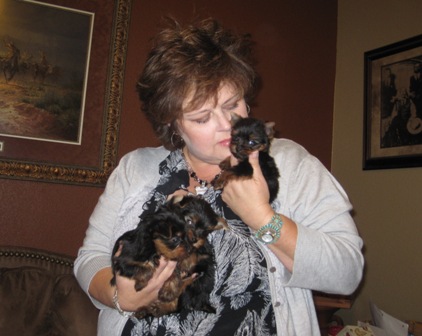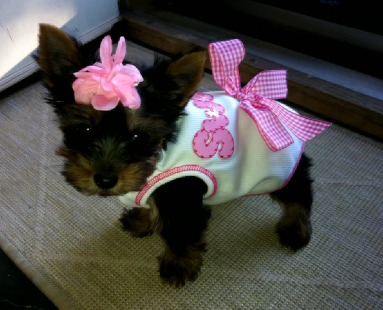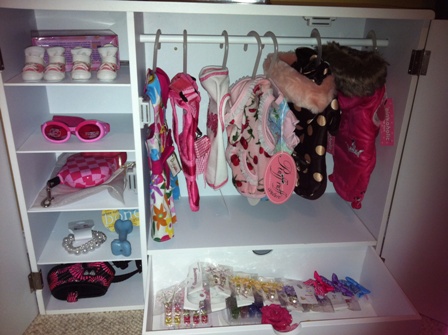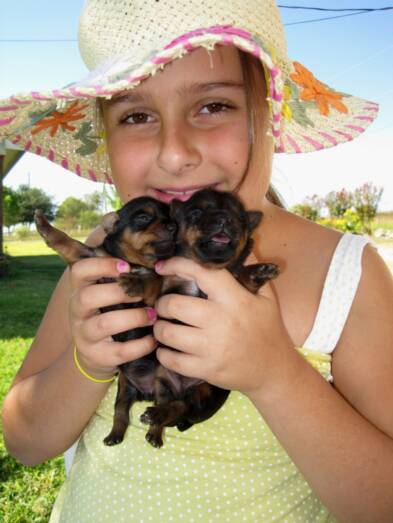 Engelmann's Lucky Penny  X    Cobb's Hair Trigger

                  Puppy born March  21,  2012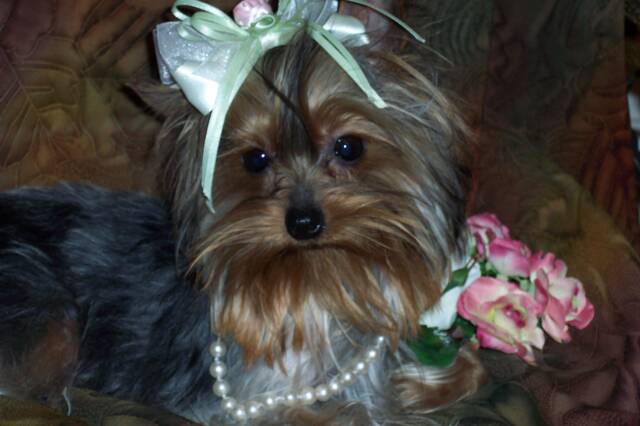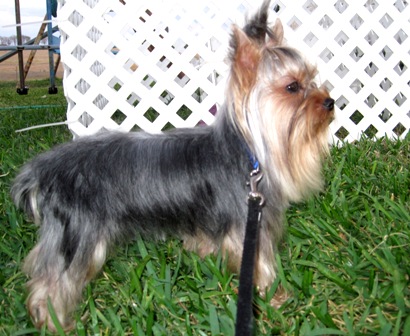 Carter's Sonya  X Carter's Sparkie 07

                    Puppy Born June 21,  2012


            Heather X  Taylor Made Stanley

                  Puppies born September 12, 2012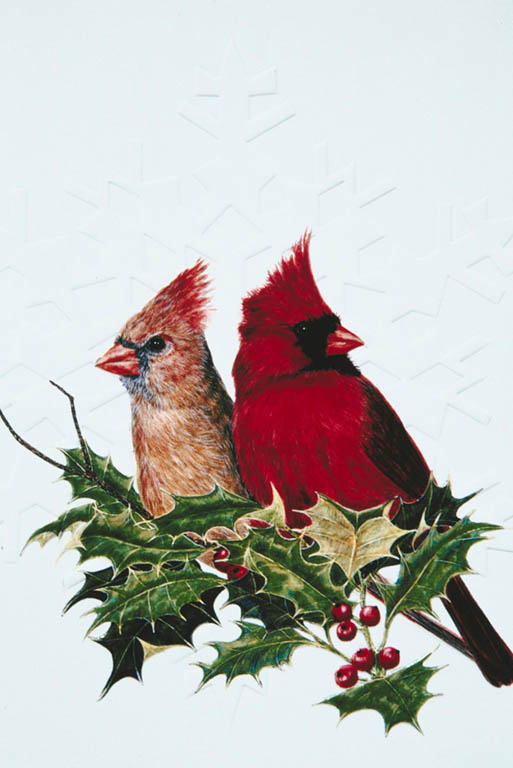 Thelma Liz Silver Dollar Flip  X Slick Willie Spash of JacK Daniels

Puppies born 12/8/12

Moeller  Litter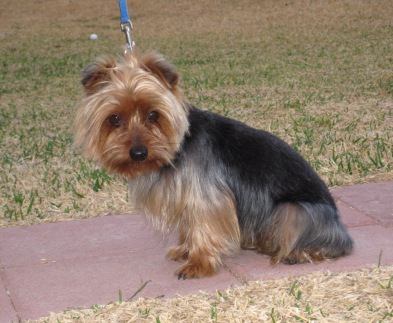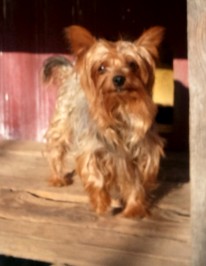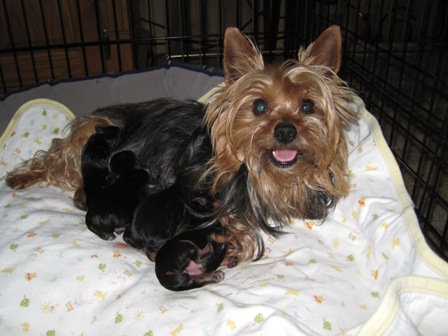 Sonya's Little Girl X  Sparkie 07      Puppies born September 15, 2012

Frankly All Dolled Up X  Pocketbook's Texas Parti Rock   

Puppies born September 15, 2012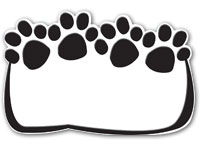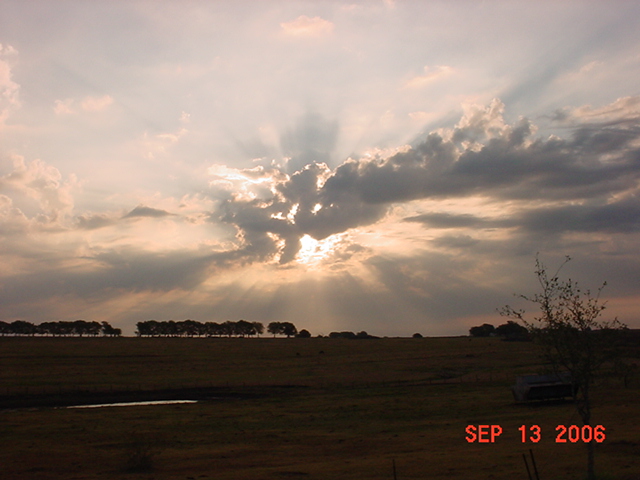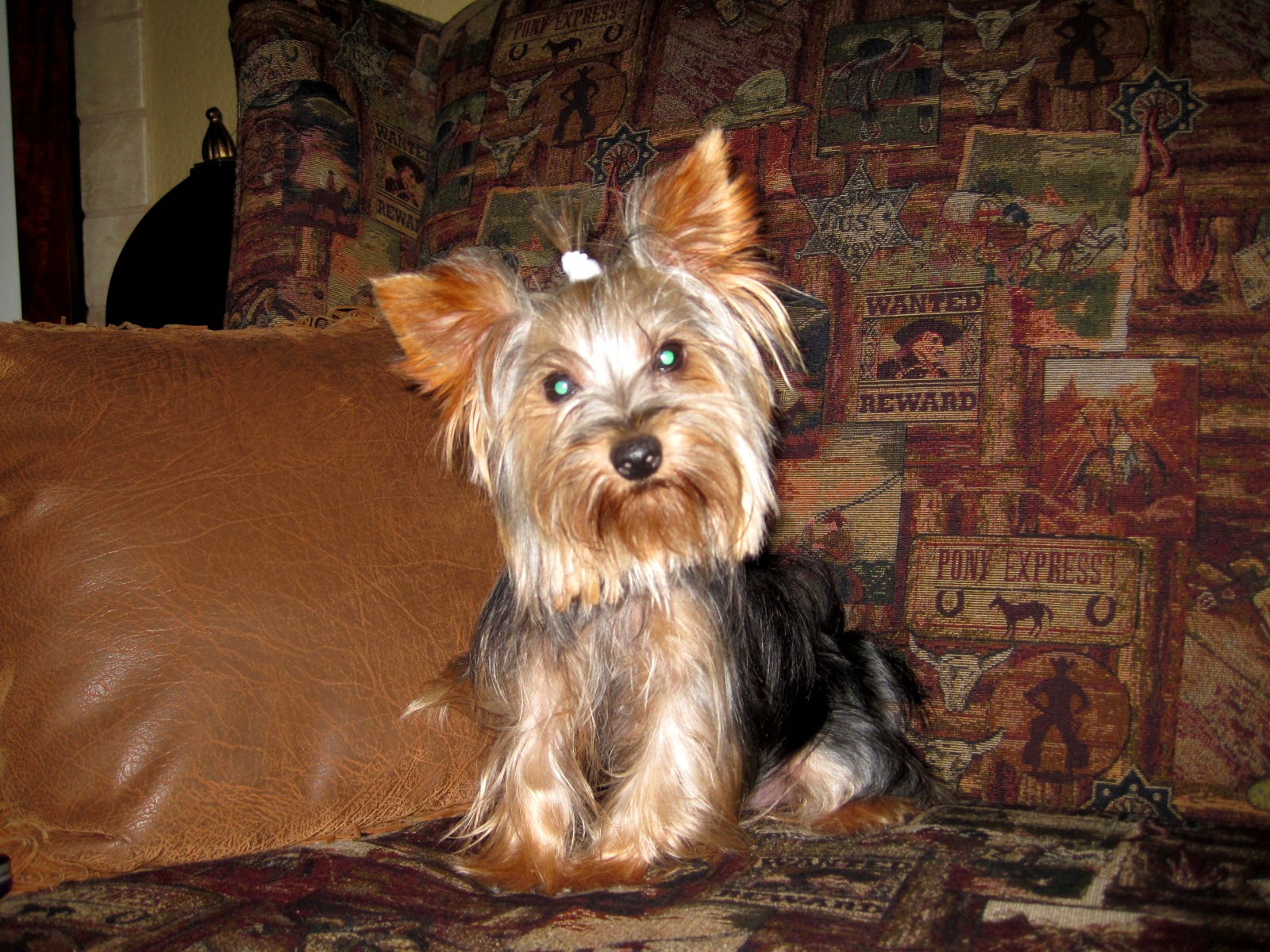 All Pocketbookpups are AKC registered.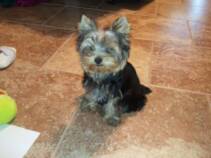 Penny's Easter Lily  X Cobb's Hair Trigger

Puppy born November 24, 2012

Novella's Red Bird  X Okmen's Visual Cast Sharp Shooter

Puppy born December 4, 2012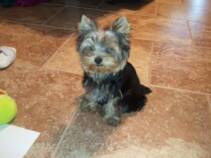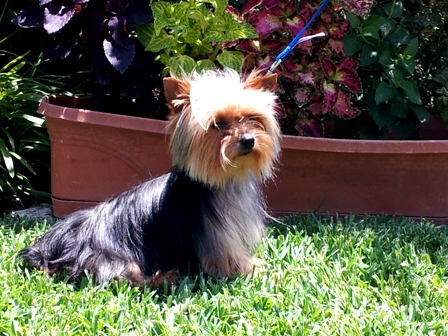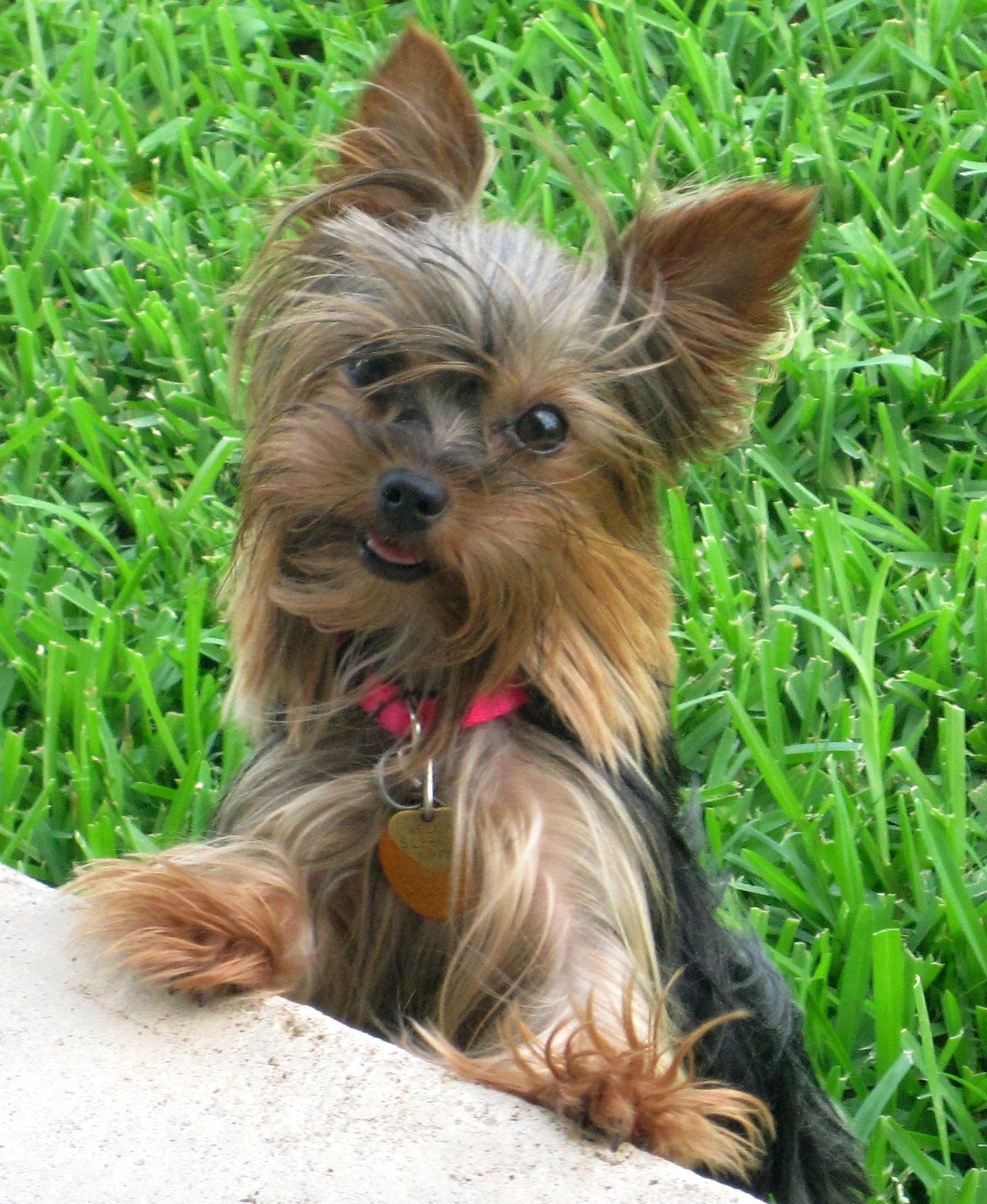 Coco's Triple Crown X Okmen's Visual Cast Sharp Shooter

Puppy born December 15, 2012

Antilley Litter


Stella's Midnight Star  X Skeeter Salty Dogs

Puppy born January  13, 2013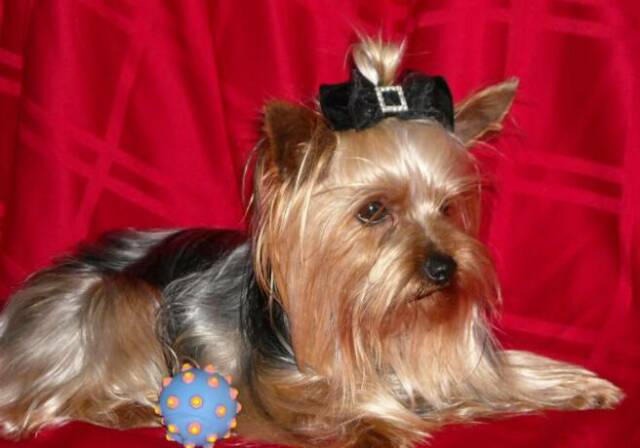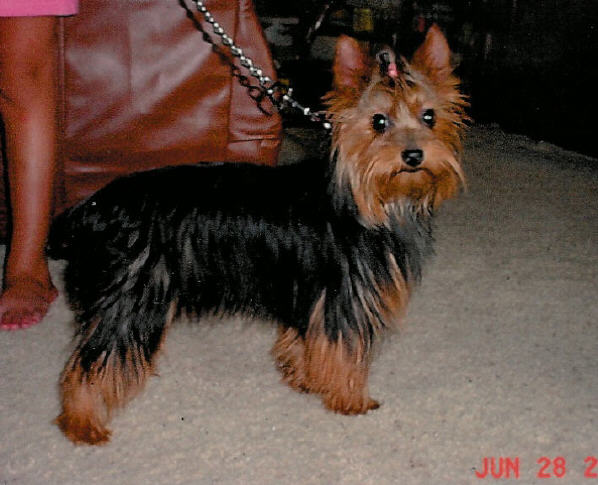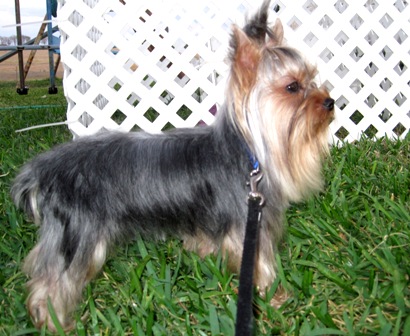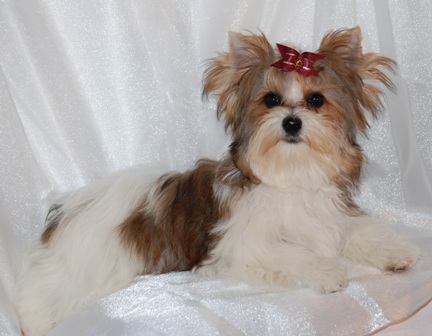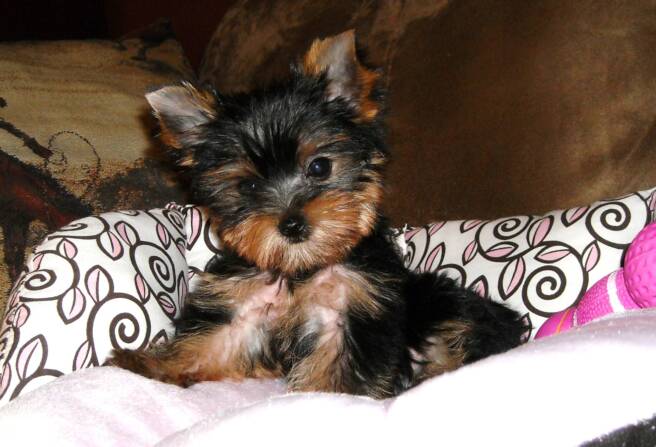 Carters Angel Touch X Carters Angel Touch Bandit

Puppy born January  15, 2013

Carters Little Sissi X Carters Angel Touch Bandit

Puppy born January  14, 2013

Poppy's Acoustic Melody X Pocketbook's Texas Parti Rock

Puppy born February 12, 2013

Wannie's Biscuit's N Gravy X Pocketbook's Texas Parti Rock

Puppy born February 7, 2013

Betty Lou Blake's Mistress of Mayhem X Pocketbook's Texas Parti Rock

Puppy born February 9, 2013


Guerra's Glenda Lea X Pocketbook's Texas Parti Rock

Puppy born January 21, 2013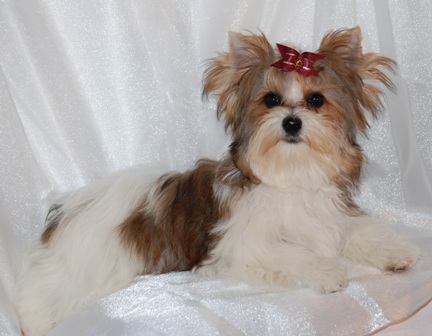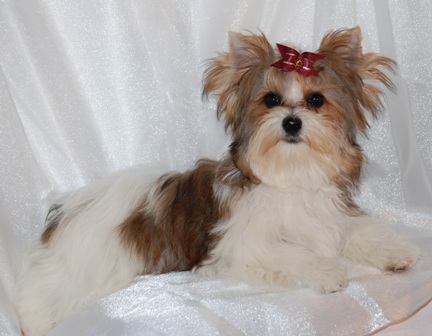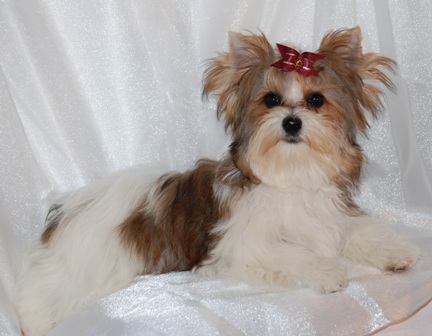 Canine Cuties Snookie X Canine Cuties Nike

Puppy born January 21, 2013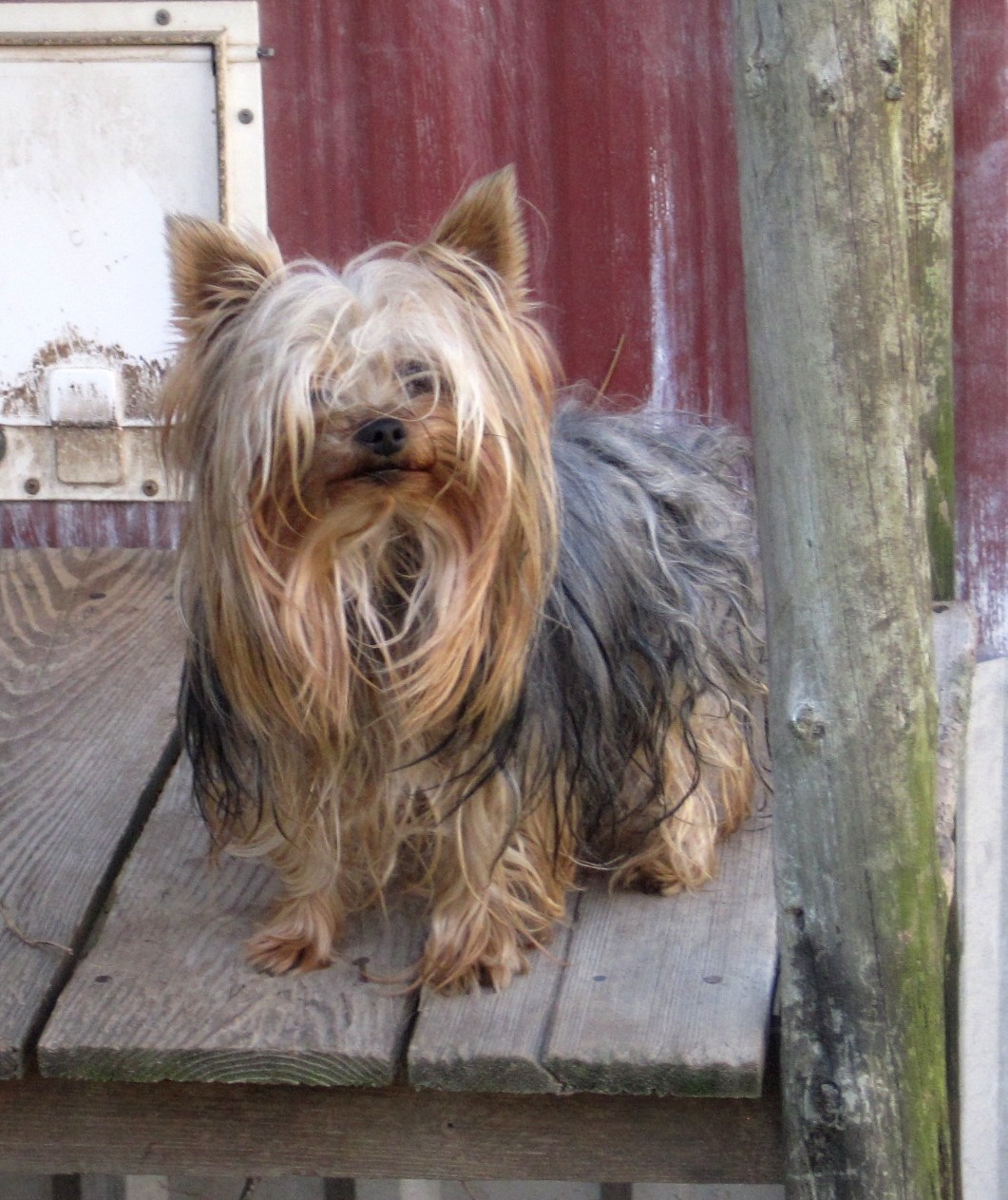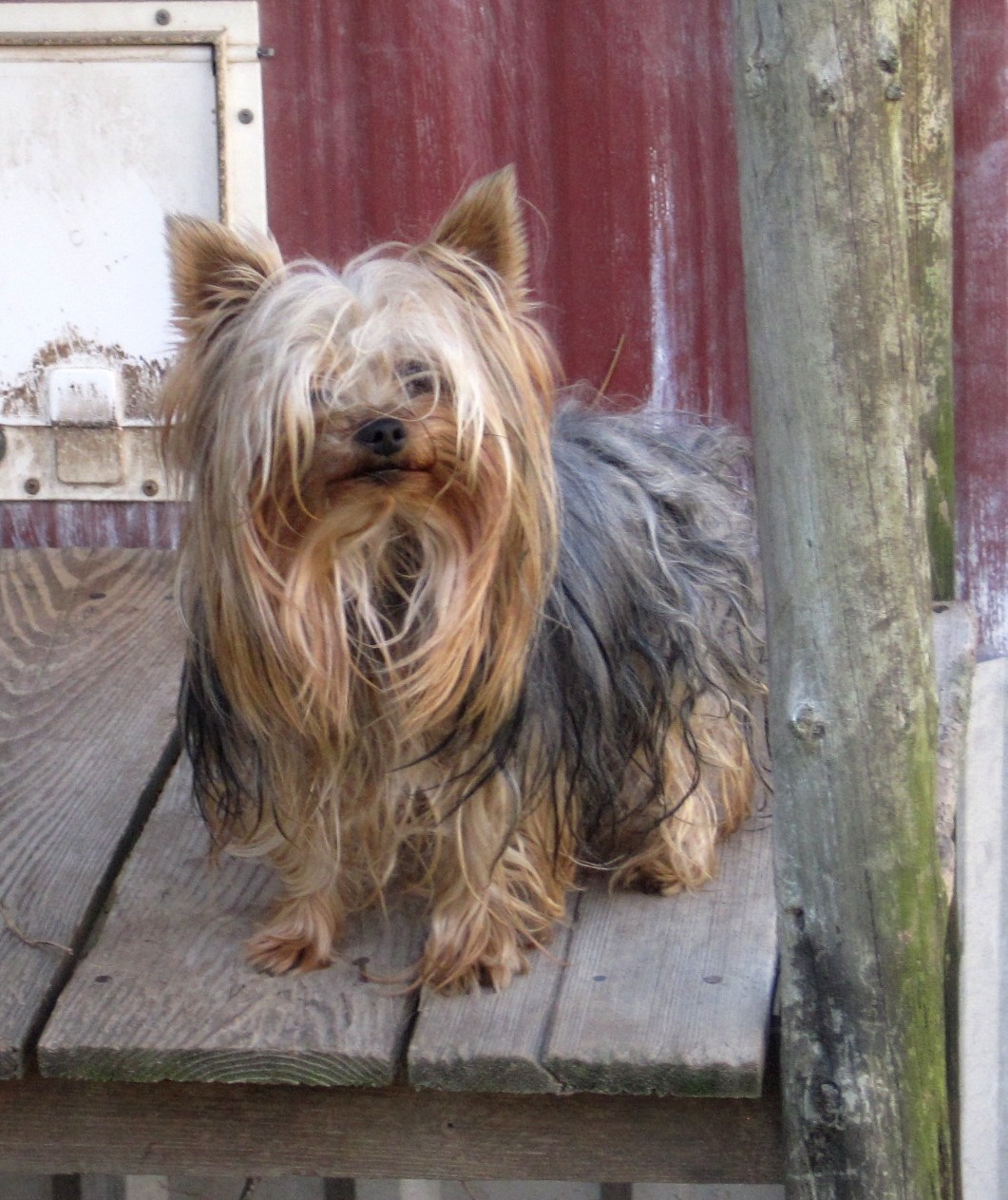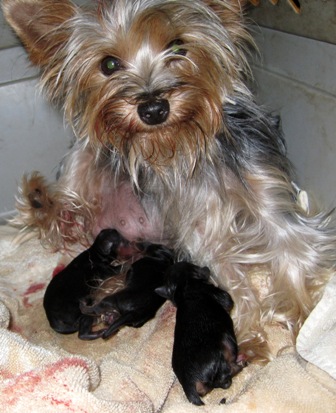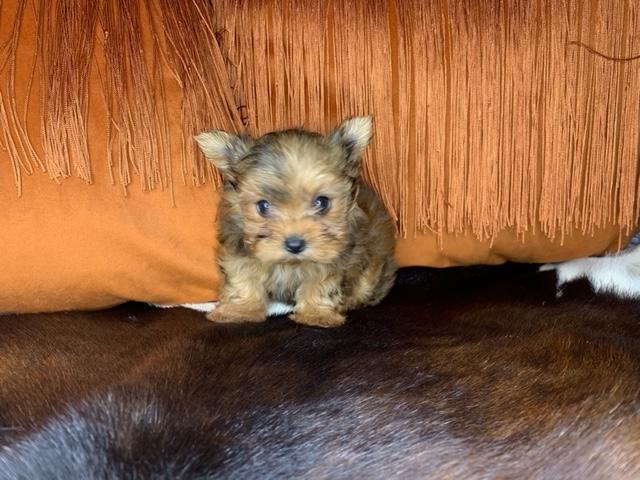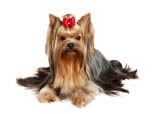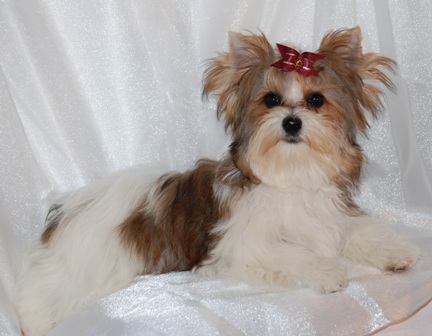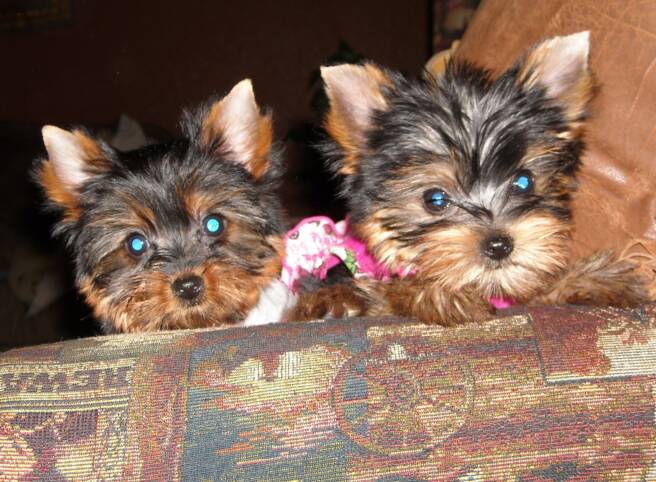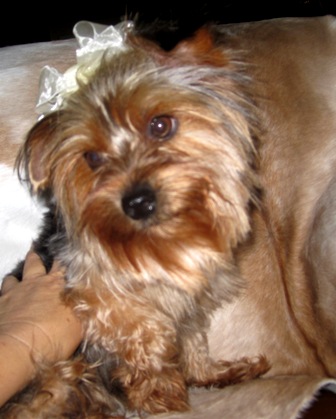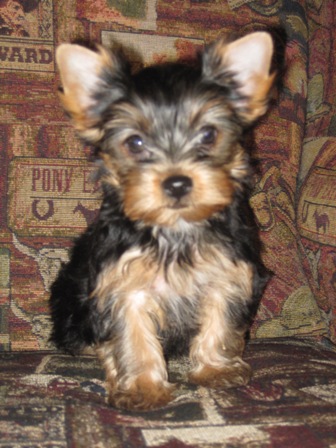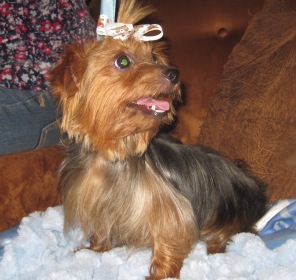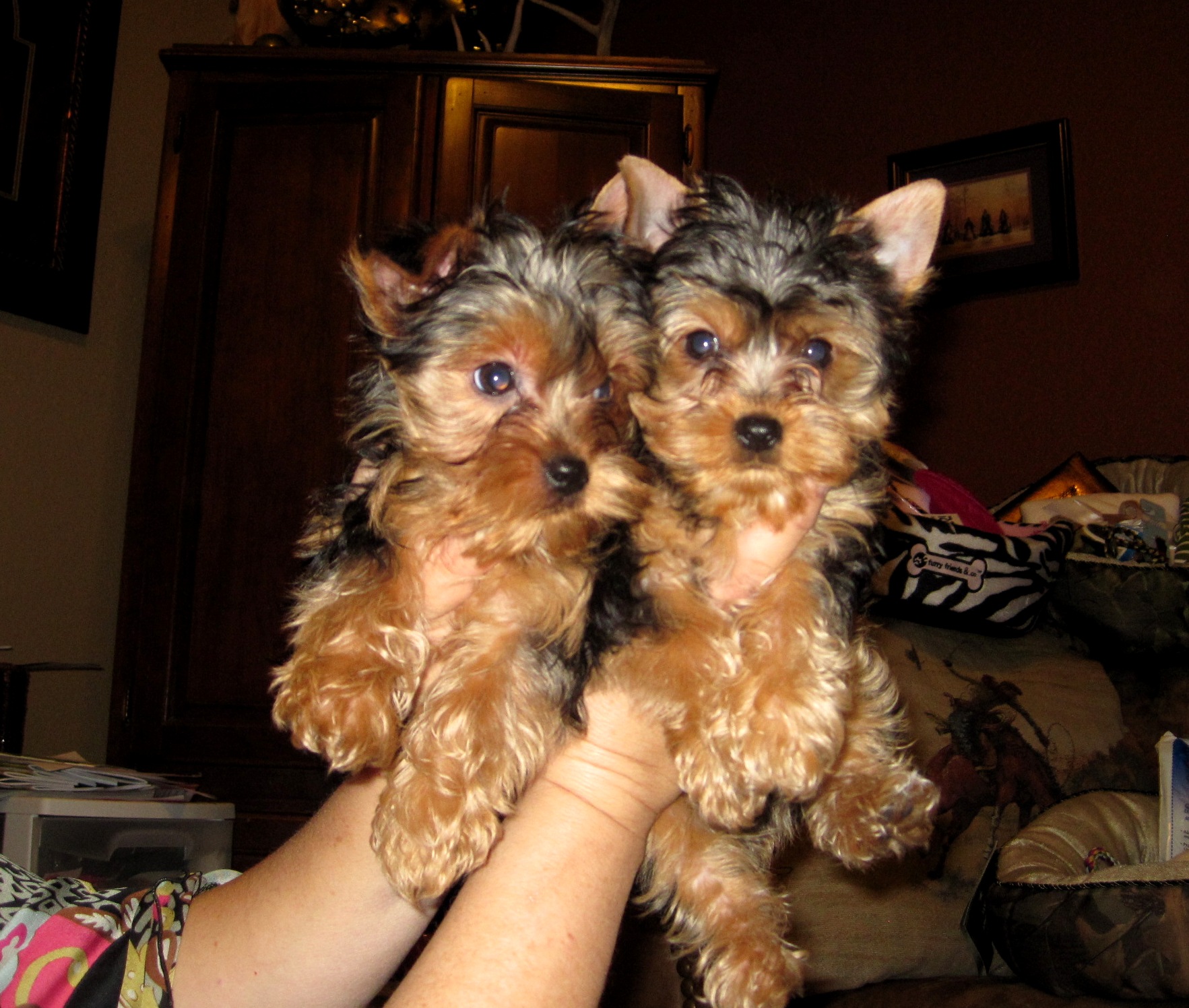 When you are looking for Yorkshire terrier puppies for sale, you want to find the best breeder. We have provided a checklist for finding a top notch Yorkie breeder. Yorkie breeders may breed all sizes from teacup Yorkie puppies to the standard size Yorkie puppies.

Show AKC registration papers - the breeder should have already filed the necessary litter registration and have the registration applications for your inspection.  You should be able to see the breeders name(s) or kennel name on the applications, the puppy's date of birth, and sire and dam names on your official paperwork. The breeder should sign and date the paperwork when the transfer of ownership takes place.  They should also explain how to register your puppy over the internet or by mail.

Bill of Sale - You should be given a bill of sale which should include deposit, amount due, total price and if the deposit is non-refundable. Both the buyer and seller should sign the contract.  This should also include a time frame to return the puppy after the new owner provides their own puppy wellness check-up by their veterinarian.

Health Guarantee - If the breeder is confident in their puppies being sold they should provide some type of health guarantee.  It should outline what potential health problems are covered and which ones are your responsibility as the puppy owner. An example of conditions that are the responsibility of the new owner would be flea and tick protection, broken bones, or hypoglycemia.

Shots and worming records - You should receive a record of veterinary care from the breeder.  The puppy should receive the first round of shots and de-worming medication at 6 weeks of age as a minimum.  The vaccination should include a 5 or 7 way vaccine.

Freedom to view sires and dams - the breeding facility or home should be clean within reason and you should be able to view the puppies and sire and dam of the puppy you are considering as a lifetime companion.  They should be groomed and clean and look healthy.

Home raised - The puppies should be socialized and enjoy a loving touch, even from a stranger.  Potty training should have begun and you should be given instructions and options to continue their routine so that potty training can be as hassle free as possible.

Personal inspection of the puppy:  Look at each puppy's coat.  They should be shiny and have a luster to them.  Nails and the anal area should be trimmed and clean.  If a puppy has had an upset stomach you will notice signs of feces in these areas. Look for any fleas.  Traces of flea feces will look like dried black blood near the skin deep within the coat. Fleas can cause tapeworms in puppies.  If they have worms their gums may be pale.  So take a quick look and remember that each Yorkie puppy's gums should be the color of pink bubble gum.   We worm our dams and puppies as early as 4 weeks after birth and then again at 6, 9, and 12 weeks.

Playfulness - All puppies need a lot of rest just like a newborn baby.  But you should be at the breeders long enough to see some active play.  They should be chasing balls, nipping at each other, running around, etc.  You should have lots of smiles on your faces at the comical antics of healthy Yorkie puppies at play.

Ask the weight of a puppy - Any reputable breeder will validate their claims regarding puppy weight and potential adult weight.  This is far from an exact science but they should be willing to weigh the pups in front of you on a scale that weighs in pounds and ounces and show you a weight chart.  You need to know what you are looking for in terms of size.  Many times we weigh the adults as well as puppies to show a customer what a 5, 6, or 7 lb Yorkie will look like when grown.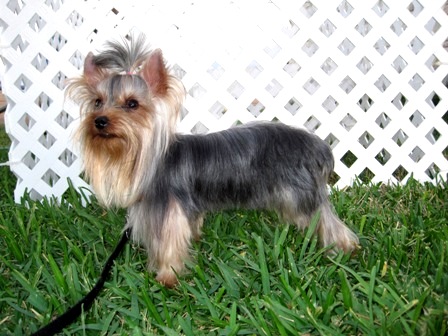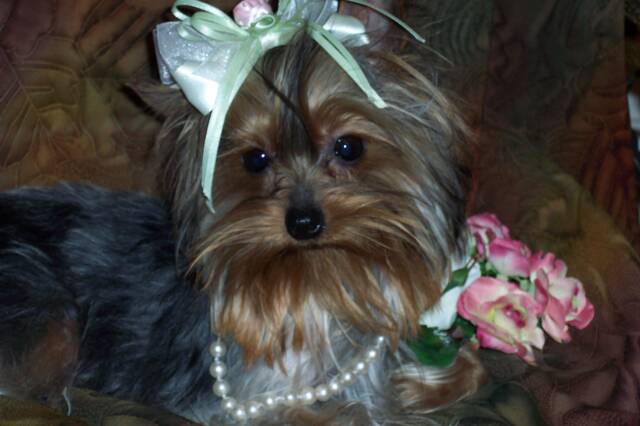 Engelmann's Lucky Penny X Cobb's Hair Trigger

Puppy born May 31, 2013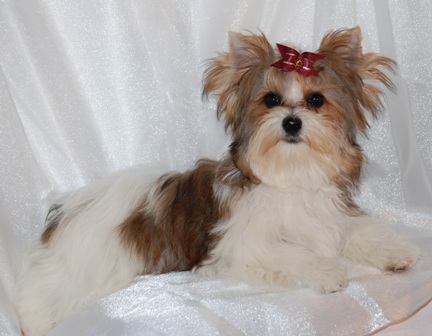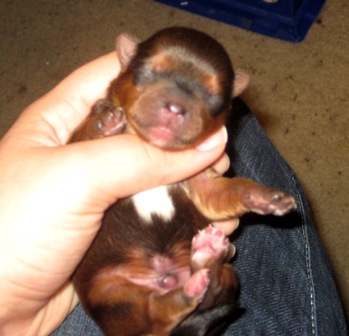 Frankly All Dolled Up X Texas Parti Rock

Puppy born May 20, 2013